Awards and Certificates
The products of ŠMT a.s. combine quality, technical precision, innovation and a the latest trends. The company has won many international and domestic awards for its i m machine tools.
SAFE ENTERPRISE Certificate - 2011, 2014, 2017, 2020
Certificate of implementation of the occupational health and safety management system.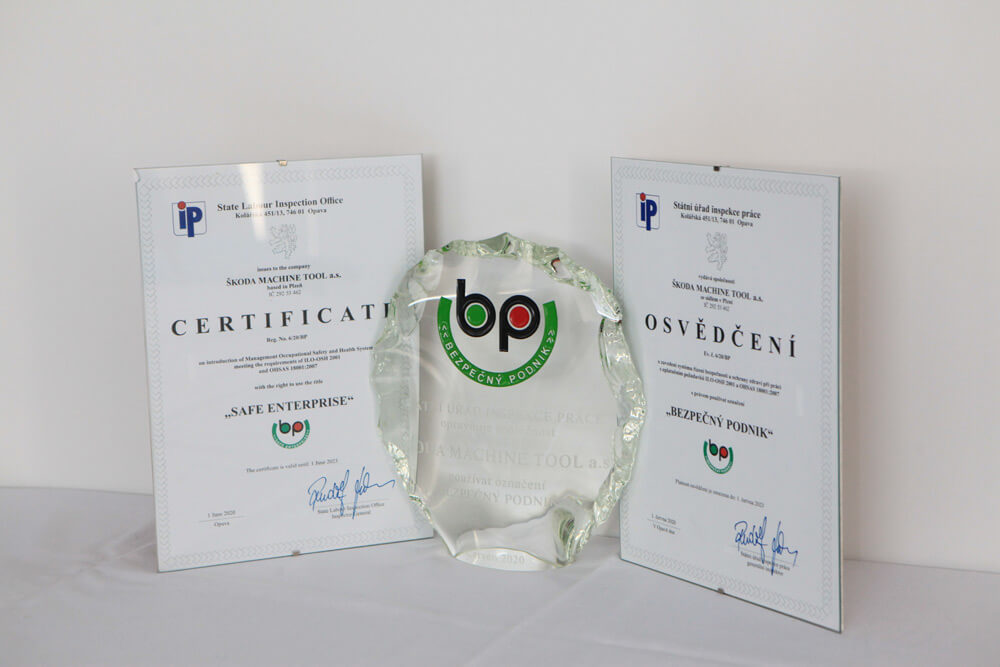 MEMORIAL LETTER OF THE FACULTY OF MECHANICAL ENGINEERING OF THE UNIVERSITY OF WEST BOHEMIA – 2019
A commemorative certificate from the Faculty of Mechanical Engineering of the University of West Bohemia was awarded to the ŠMT on the occasion of the 70th anniversary of the beginning of teaching technical disciplines in Pilsen.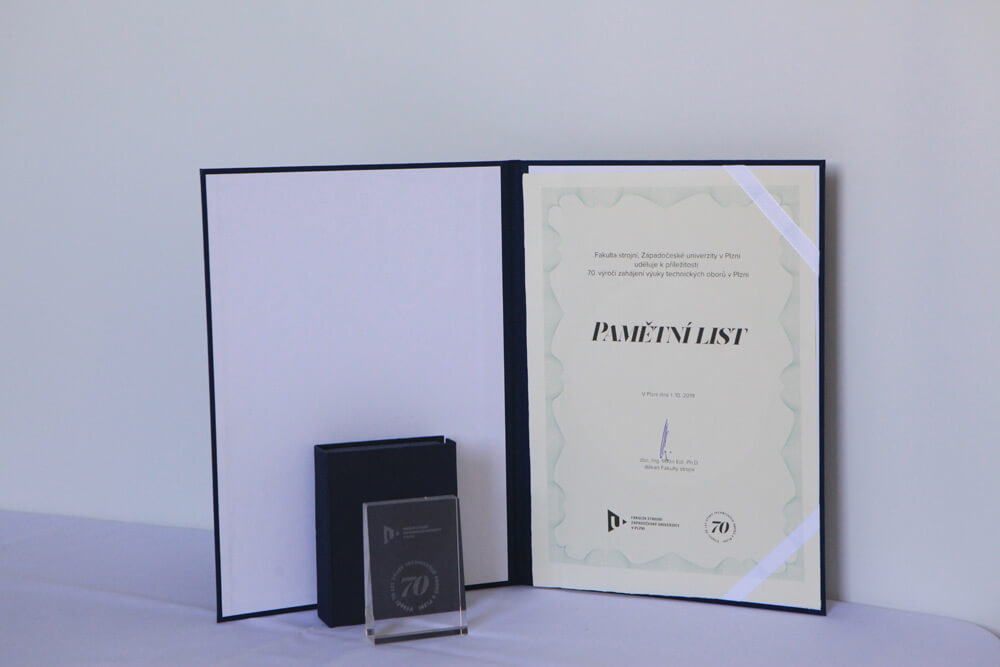 HONORARY RECOGNITION - THE INNOVATION AWARD OF THE YEAR – 2018
The ŠMT company received an honorable recognition within the competition for the 2018 innovation award for the Virtual Concept of Machine Design - Virtual Revival.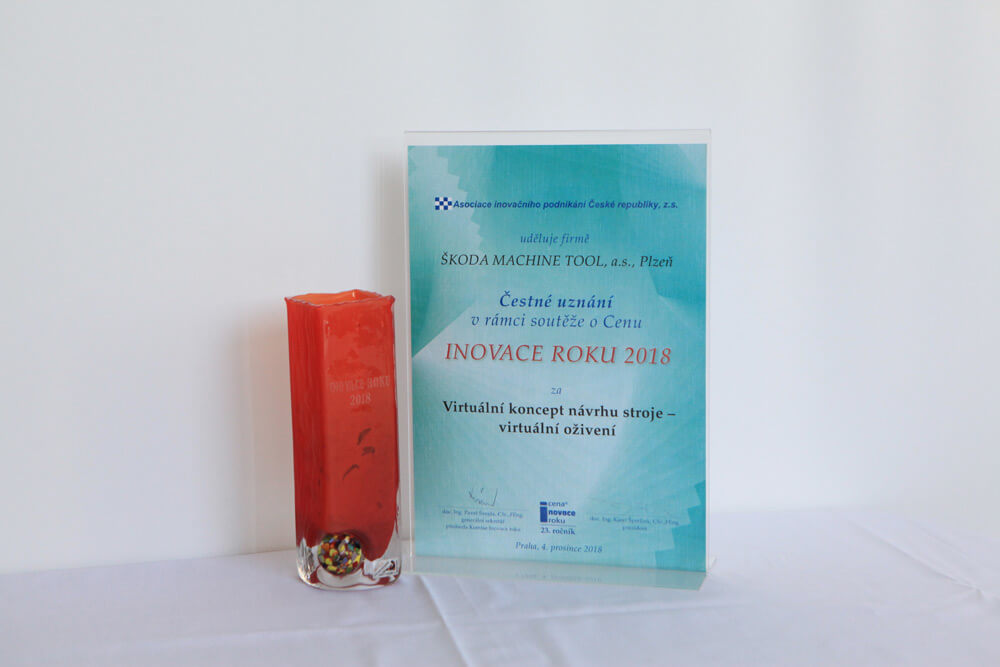 INNOVATION AWARD OF THE YEAR – 2017
The award for innovations of 2017 was won by the company ŠMT for the multifunctional station HCW 4S with a virtual model and VNCK simulation.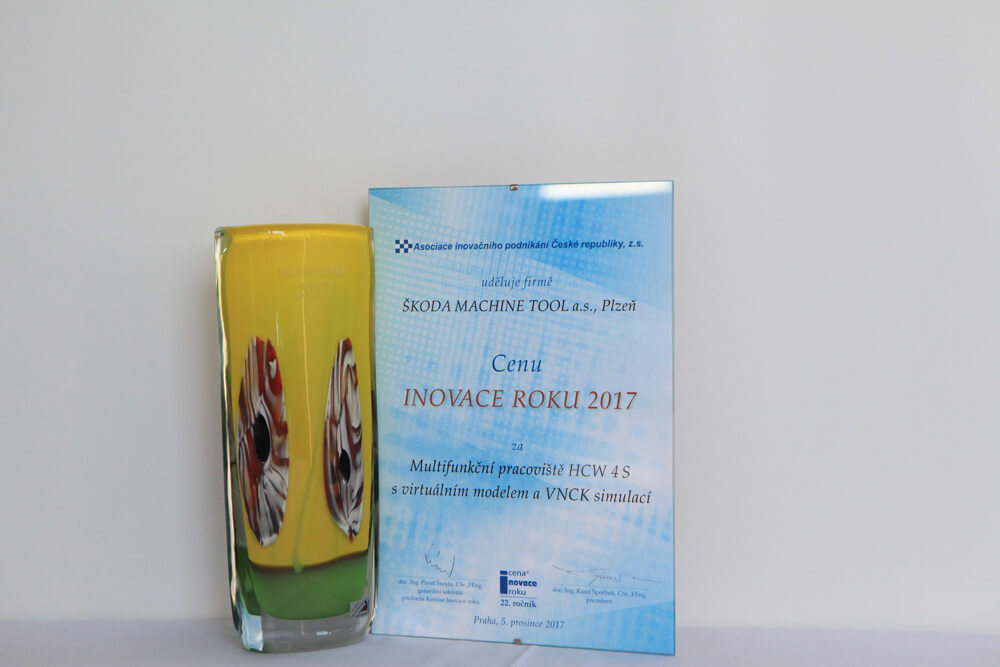 LEADER OF BRANCH RESEARCH IN THE CZECH REPUBLIC - 2012 -2019
The company ŠMT a.s. was a key member of the consortium of the Competence Center - Engineering Production Technology project in 2012-2019. It contributed fundamentally to the development of applied research in the field of engineering production technology in the Czech Republic. In this project supported by the TA ČR, the most important companies in the field came together and solved the most demanding research topics in cooperation with research institutes. This open cooperation is the basis for further development and maintaining the prosperity of the field in the Czech Republic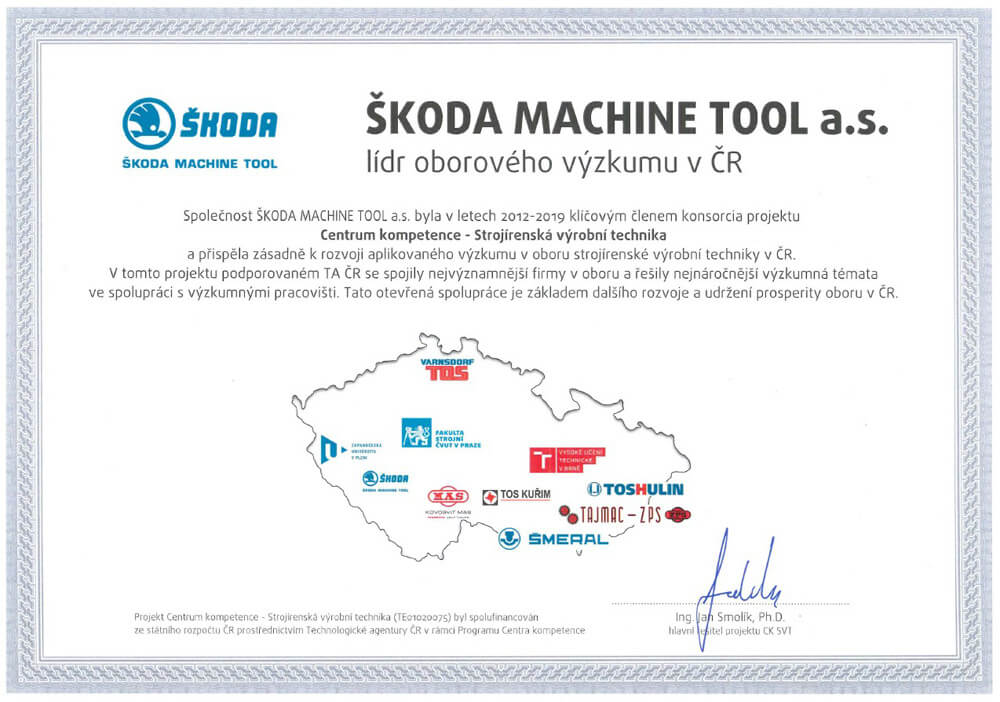 THE BEST PRODUCT - 2003
ŠMT won 3rd place in the BEST PRODUCT competition for the Universal Horizontal Lathe SR 3.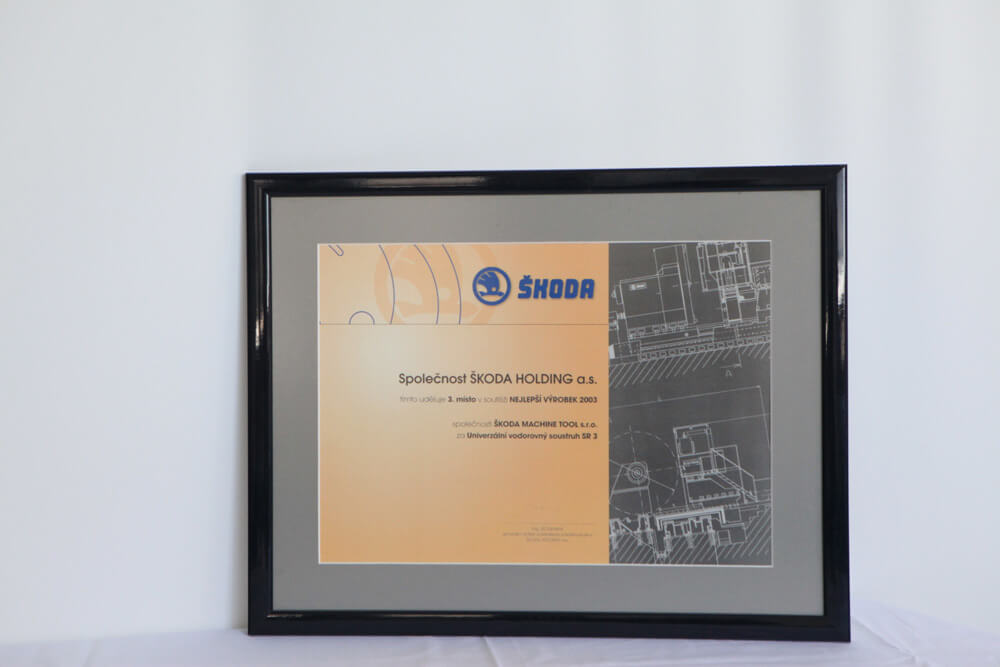 CERTIFICATE OF HONOR EUROPEAN MARKET RESEARCH CENTER – 1998
Certificate of Honor awarded by the European Market Research Center based on the evaluation of aspects in the areas of management quality, technical innovation, services, level of export and prestige in the European market.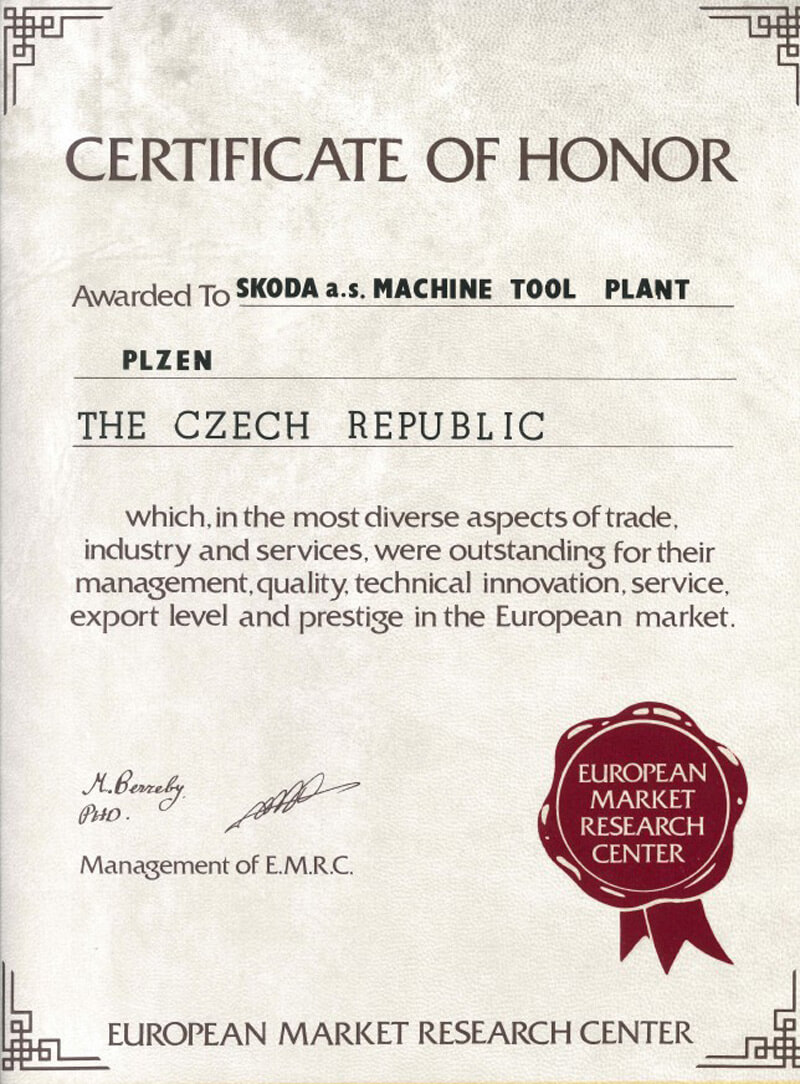 GOLDEN MEDAL ON MBV BRNO FOR HORIZONTAL BORING MACHINE W200 HB CNC – 1981
The golden medal was awarded to the milling and boring machine WD 200 HB - CNC at the Brno trade fair in 1981.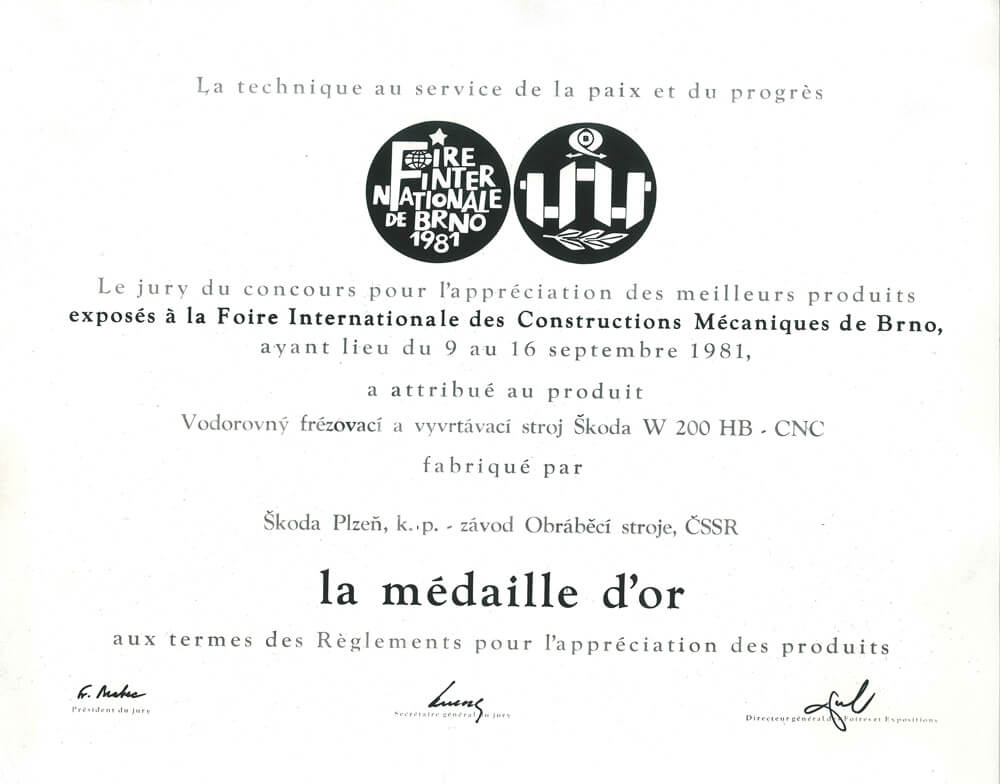 AWARD FOR EXCELLENT INDUSTRIAL DESIGN FMTIR – 1980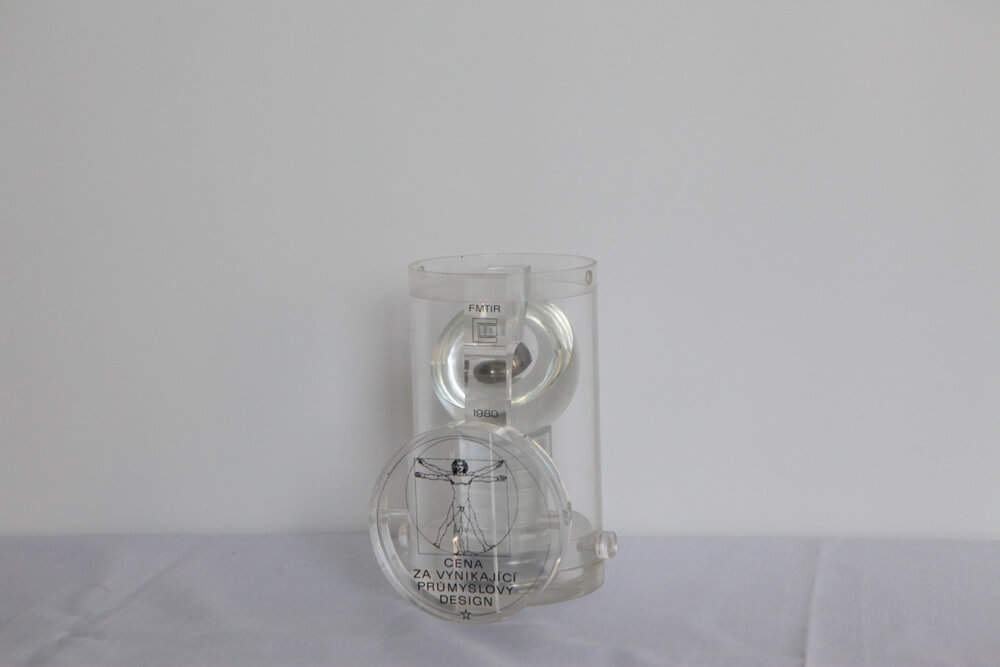 GOLDEN MERCURY FOR BUSINESS SUCCESSES IN ITALY W200 AND NC - 1973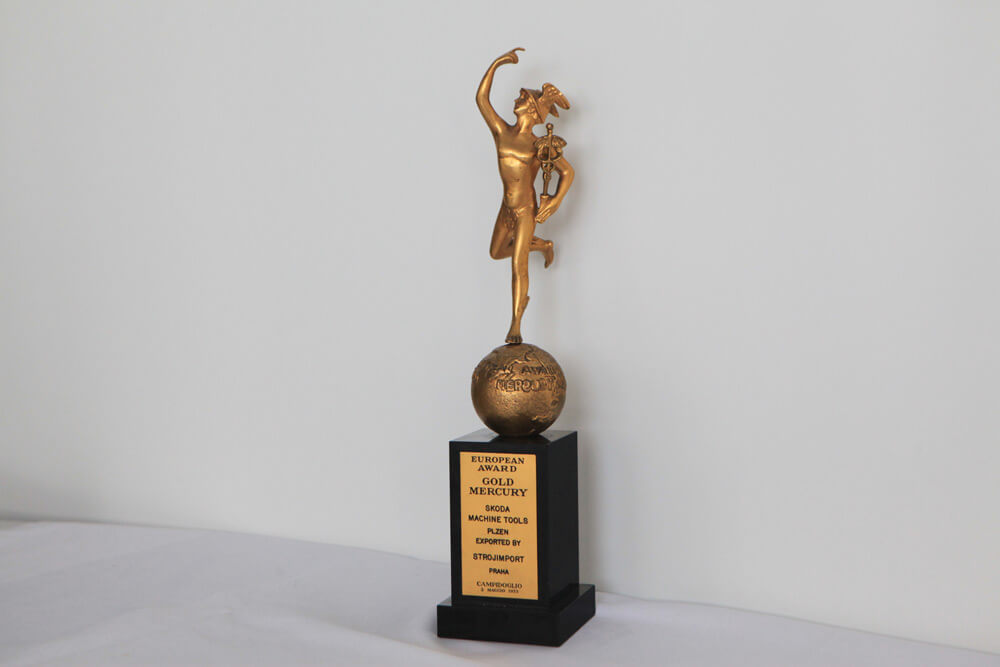 GOLDEN METAL ON WORLD TRADE FAIR IN BRUSEL FOR HORIZONTAL BORING MACHINE WD250 - 1968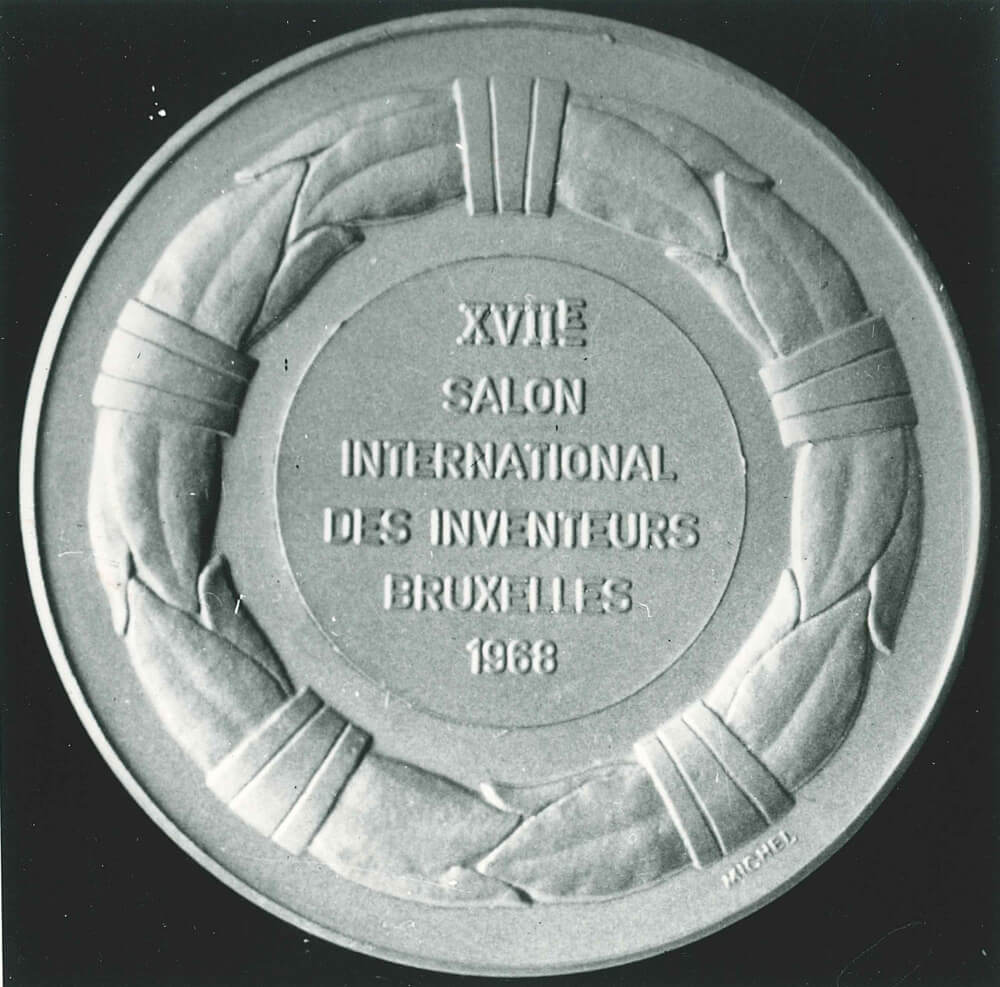 Other awards
1st PLACE IN THE NATIONAL COMPETITION "PACKAGING OF THE YEAR" - 1972
GOLDEN MEDAL ON MBV BRNO FOR NC-N SYSTEM PC-4-200 – 1971
GOLDEN MEDAL AT MBV BRNO FOR HORIZONTAL BORING MACHINE WI 130 - 1967
GOLDEN MEDAL AT MBV BRNO FOR HORIZONTAL BORING MACHINE W 200 - 1965
GOLDEN MEDAL ON MBV BRNO FOR SIU 100NA LATHE – 1964
GOLDEN METAL ON WORLD TRADE FAIR IN BRUSEL FOR HORIZONTAL BORING MACHINE WD200 – 1958